Here we are, talking about the Emmy Awards!
I did a similar recap for the Academy Awards in early march -
remember it?
- and I thought I may do another one for this ceremony.
I LOVE TV Series, as you know if you've been reading the blog for a while, and I'm super excited to see who'll win.
Well, when you'll read this I've already known who won but you know what I mean.
I'm writing this while I'm watching the red carpet and the ceremony so yes, I don't know if anything'll make any sense.
Eccoci qui a parlare degli Emmy Awards, proprio come vi avevo promesso nel post di ieri mattina.
Avevo fatto un recap simile per gli Oscar ad inizio Marzo -ve lo ricordate il mio post?- e ho pensato di farne uno anche per questa cerimonia.
Io AMO le serie TV, come saprete già se leggete il mio blog da un po', e sono eccitatissima di sapere chi vincerà.
Cioè sì, mentre voi leggete questo post saprò già chi ha vinto ma capite cosa voglio dire.
Sto scrivendo questo post in diretta, ho deciso di guardare solo il red carpet e commentare solo quello, HO SONNO.
As soon as I saw the nominees I didn't know if I was really excited or nervous.
I pretty much loved every series -and actor, of course- that was nominated and I wanted all of them to win. Why can't they all win?
Well, I'll be happy no matter who wins so I guess I can't complain.
Now on to the fun part, beauty and fashion!
Appena ho visto i nominati di ogni categoria non sapevo se essere molto felice o molto agitata.
Ho praticamente amato ogni serie -e attore, ovviamente- che è stato nominato e avrei voluto che vincessero tutti.
Perché non possono vincere tutti?
In ogni caso sarò felice, quindi immagino di non potermi lamentare troppo.
Adesso passiamo alla parte divertente, beauty e moda.
Kelly Osbourne..Meh.
I'm not a fashion expert so I won't talk too much about the dress -not a big fan but what do I know- but I'm not a fan of the make up she's wearing here neither.
I would have loved to see her rocking Kelly Yum Yum, the amazing lipstick she created with MAC Cosmetics. Oh, well.
Still love her hair!
Kelly Osbourne...Meh.
Non sono un'esperta di moda quindi non mi dilungherò granché sul vestito che ha scelto di indossare-non mi fa impazzire a essere onesta ma io che ne voglio sapere alla fine- ma non mi piace molto nemmeno il trucco che le hanno fatto.
Sarei stata molto più felice di vederla con Kelly Yum Yum, il bellissimo rossetto che ha creato in collaborazione con MAC.
In ogni caso continuo ad essere una grande fan dei suoi capelli però.
Oh Taylor Schilling, how can you possibly be so perfect?
I have a girl crush on her even if I kind of hate her character in OITNB sometimes.
I'm sure you've all already seen it but if you hadn't please do, it's the first show I've seen that's actually really funny and extremely moving at the same time.
I loved her make up for the ceremony, I'm no expert but I really think it suits her.
Also, I'm obsessed with that ear cuff, I need it!
Oh Taylor Schilling, come fai ad essere così perfetta?
Ho una cotta per questa bellezza non troppo convenzionale, nonostante io a volte odi il suo personaggio in Orange Is The New Black.
Se non l'avete ancora vista questa serie io ve la consiglio proprio, è la prima che è davvero divertente e commovente allo stesso tempo.
Mi sono innamorata del trucco che le hanno fatto per la cerimonia, dal basso della mia ignoranza mi sento dire che le dona tanto.
Tra l'altro sono ossessionata dal suo ear cuff, mi serve!
I love you, Red.
I love Lena's new platinum bob.
I think it matches her amazing personality, don't you?
I really like her make up, too! But that pink tutu? I get that she has to be over the top all the time but I just wish I could burn it.
Adoro il nuovo caschetto biondo platino di Lena, la protagonista -e non solo!- di Girls.
Penso che si accordi perfettamente alla sua personalitò, no?
Mi è piaciuto anche il trucco che ha scelto.
Ma quel tutù rosa? Perché? Capisco che abbia quasi la necessità di esagerare sempre ma vorrei bruciarlo.
Oh Lena, you look beautiful, as always.
Bellissima come sempre, Lena.
I really like Kerry Washington, I think she's amazing.
I've been watchin Scandal since it first came out and I'm super happy that Joe Morton, Kerry's father in the series, won an award. I always enjoy his performances even if he does scare me sometimes.
Mi piace tanto Kerry Washington, credo sia fantastica.
Guardo Scandal da quando è uscito e sono felicissima che Joe Morton -il padre di Kerry-Olivia nella serie- abbia vinto un premio.
Apprezzo sempre moltissimo la sua recitazione anche se devo ammettere che a volte mi terrorizza non poco.
Breaking Bad won BIG time.
We all expected it, right?
I would have been shocked if they didn't, to be honest.
Breaking Bad ha vinto parecchio.
Però ce lo aspettavamo tutti, non è così?
Ci sarei rimasta male se così non fosse stato, ad essere onesta. È una serie che è piaciuta a tutte le persone che conosco che l'abbiano vista tutta, anche persone che normalmente non amano le serie tv.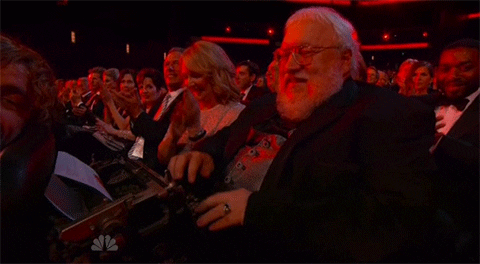 Can you see George R.R. Martin smiling?
He's probably killing off all of our favorite characters. Ops.
Lo vedete George R.R. Martin che sorride?
Probabilmente sta facendo fuori tutti i nostri personaggi preferiti. Ops.
Sherlock won 7 awards. Can you say wow?!
I'm so happy it happened! Not so happy that Benedict Cumberbatch and Martin Freeman weren't there.
I'm also terrified about what he said about next season:
"We have a plan to top (this past season) and I do think our plan is devastating. W

e've practically reduced our cast to tears by telling them the plan. We're, Mark (Gatiss) and myself, we're so excited, about what we've got coming up. Probably more excited than we've ever been about 'Sherlock,' and we're a couple of fan-boys, so

honestly, I think we can."
Please, don't be too mean.
Ciao, Moffat!
Sherlock ha vinto ben 7 premi. In caso non la conosciate piccola introduzione: è una miniserie della BBC, tre stagioni composte da tre episodi l'uno.
Porta il personaggio di Sherlock Holmes nell'epoca contemporanea ed è fantastico.
Io faccio schifo a descrivere le cose ma vi prego, guardatelo.
Sono felicissima che abbia vinto tutti questi premi, un po' meno che non ci fossero Cumberbatch e Freeman alla cerimonia.
Sono anche terrorizzata da quello che è stato detto per la quarta stagione che a quanto pare ha ridotto in lacrime il cast. Voglio morire.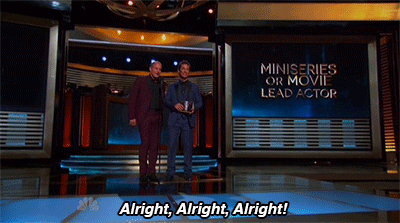 This doesn't even need a caption.
Qui non c'è bisogno di commentare.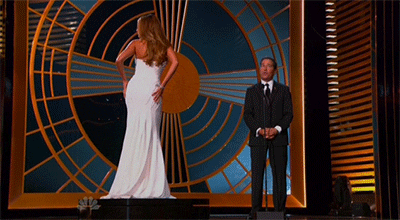 Sofia Vergara is a beautiful, beautiful woman.
I'd kill to have her perfect body and her flawless face.
But still, I wouldn't like to be put on a rotating pedestal. Seriously, what was the point?
Anyway, tell me about everything you think about the Emmys, your favorite looks and so on!
Sofia Vergara è una donna davvero stupenda.
Ucciderei per avere il suo corpo perfetto e il suo viso privo di difetti.
Però non capisco perché l'abbiano messa su un piedistallo rotante. Sì, letteralmente.
Qualcuno mi spiega cosa volesse dire?
In ogni caso, ditemi VOI che ne pensate degli Emmy, i vostri look preferiti e così via.
With love,
S.